GENUINE FAIR ISLE KNITWEAR DESIGNED AND HANDCRAFTED ON FAIR ISLE BY ELIZABETH RIDDIFORD..
The following individual or special limited edition garments are available to purchase on Fair Isle or by mail order.
ITEM 1. Chunky All-over Fair Isle Handknitted Scarf. £185. Designed and handcrafted on Fair Isle by Elizabeth Riddiford using 100% pure new Shetland wool from Fair Isle fleeces. Natural white background (Home Grown Fair Isle Wool (Oo')) with natural (undyed) colours, including some of Elizabeth's handspun yarn. Traditional Fair Isle patterns. 1 of only 2 knitted. SOLD.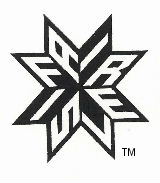 Unless stated, all text and photographs on this website are copyright of Elizabeth Riddiford, 2012. All rights reserved.